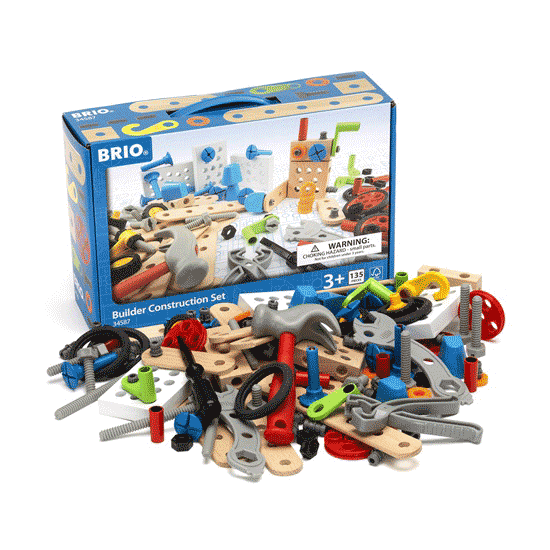 Builder Construction Set
Details
This Builder Construction Set is an early STEM toy. Thanks to 135 pieces, this kit is large enough for children to actually make things. The set promotes open-ended building play. Children use their logic and creative skills as they experiment with creative construction. This toy never gets old. Every time a child uses it, the design outcome is different.
The set includes nuts, bolts, blocks, hammer, screwdriver, spanner, and pliers. The little girl or boy in your life can build mind-power, putting construction ideas to the test.
WARNING: Choking Hazard. Small Pieces. Not for children under 3
SIZE: 12.25" x 8" x 3.75"
AGE RANGE: 3 years+
Developmental Value
This toy is chock-full of STEM play-learning kids should be exposed to. Open-ended play, this set is a flexible activity that can be enjoyed by different ages and abilities. Playing alone, it enhances concentration and confidence. Playing alongside others or with older family members helps develop communication and teamwork.
From a physical aspect, the wrench and pliers movement helps refine fine motor ability and builds eye-hand coordination.
From a cognitive or intellectual aspect, construction sets are STEM toys -- they teach science, technology, engineering concepts and math skills. With this starter set, children experiment with simple physics and design concepts. The spatial skills needed to understand how pieces fit together and work with each other support fundamental mathematics understanding. Creating or building to design requires a combination of engineering skills and imagination.
This is fundamentally a problem-solving toy. Problem-solving activity developing cross-brain thinking skills. Effective problem solving requires a controlled mixture of both logic (left-brain activity) and creative (right-brain activity) thinking. Good problem solvers switch from one set of skills to the other. This is not always easy but becomes easier with problem-solving practice.
Logic (analytic) thinking is developed through ordering the pieces, comparing them, contrasting them, evaluating them and selecting the correct piece. The child must select the best alternative from the options available by narrowing down the range of possibilities (a convergent process).

Creative thinking is developed when a piece doesn't fit because the child must consider a broader set of solving options such as manipulating the piece, flipping the piece, considering the alphabet order, or solving surrounding pieces.
Video
Manufacturer
BRIO was founded in 1884 in Osby, a small town located in southern Sweden, and has been creating quality products since that time. They have successfully combined innovation with respect for the heritage of craftsmanship. Their mission is to create happy childhood memories. They believe strongly in the magic of play, supporting children's growth and development in a safe way. Today BRIO is a global company. They have been a Purveyor to the Royal Court of Sweden since the 1940s.
When designing toys, there are four key principles BRIO strives for:
Toys should be safe to play with
They must comply with BRIO's high-quality standards
They must be intuitively easy for the child to understand
They must help the child grow through play
Brio has held onto wood as the primary material they use for their toys. Beech hardwood as a material is timeless and very durable. It is not endangered and it is easy to replace. Their wood comes from renewable forests grown in forests from Southern Sweden to the Northern European mainland. No unique biospheres are destroyed. Here at Sweetpea Toys, we love BRIO because they are thoughtful about toy design, safety, play needs, manufacturing and the care of our planet.
Save
Save