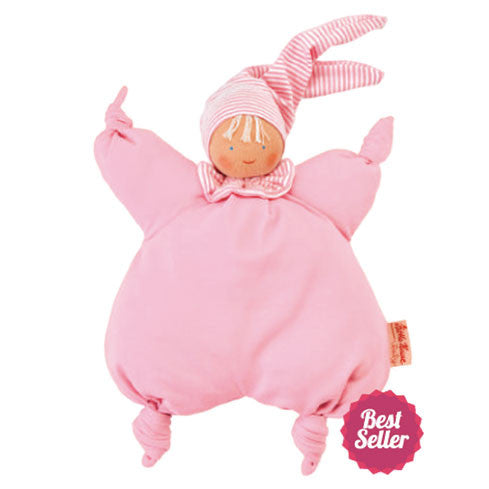 Organic Pink Gugguli Doll for Newborns
Detail
A best seller! A lovely plump Käthe Kruse doll in pink, suitable for newborns. It is made entirely from natural materials. Filled with 100% anti-allergenic substance, it is covered with certified organic cotton fabric. This careful choice of materials assures the safest and softest comfort cuddly for newborns and infants.
The knotted arms and legs help contort the body to function as a soft, secure pillow. The long hat tails encourage oral exploration and early grasping. Käthe Kruse was the original maker of soft dolls. This doll making firm has held to superior craftsmanship and hand-finishing for over 100 years. The Gugguli doll has been certified by Waldorf for homes who are encouraging that environment.
ORGANIC
SIZE:11.6" x 6.1" x 3.8"
AGE RANGE: Newborn +
Developmental Value
Besides being a safe, constant companion for your child, the Gugguli may well become a comfort or transitional object (a security cuddle). 
Security objects often take the place of the mother-child bond as the child begins to realize the independence between mother and baby. Security cuddlies have proven helpful in adjusting to anxiety-producing situations.
Manufacturer
German brand, Käthe Kruse, was founded in 1911, becoming the originator of soft doll manufacturing. The firm continues to make dolls with the original technique, taking pride in the handcrafted nature of their product. The firm has sold internationally for well over a century. They use the finest, premium quality materials in the world, complying with the highest European and American safety standards in the process. Today, several Käthe Kruse dolls are sold on the collectibles market.
In 2016, Käthe Kruse was awarded "Brand of the Century" because the firm exemplifies the category of doll.