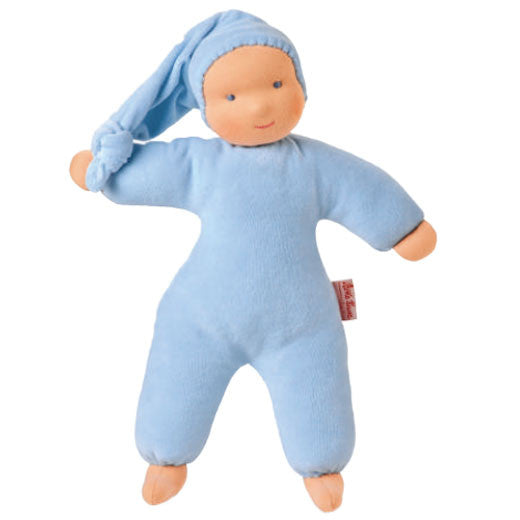 Organic Comfort Doll in Light Blue
Detail
This best selling Käthe Kruse Schatzi doll makes a perfect sleep time comfort companion for babies and toddlers. Schatzi is translated as sweetheart, and very sweet it is. These dolls are often used by children in homes encouraging Waldorf environments. True to traditional Waldorf dolls, the facial features are simple, encouraging a child to imagine the doll's feelings and expressions.
This cuddly soft doll in light blue is 14 inches tall. Handcrafted in Germany by the originator of the soft doll, over a century ago, Schatzi is covered with certified organic cotton fabric. It is filled with 100% anti-allergenic polyester materials of European origin. The soft floppy body is handmade with superior craftsmanship.  This construction means these treasured dolls are machine washable on a gentle cycle when cleaning is necessary.
ORGANIC
SIZE:12.1" x 6.1" x 4.3"
AGE RANGE: Newborn +
Developmental Value
Besides being a safe, constant companion for your child, doll play highlights an amazing natural capacity children have for nurturing. Have you ever watched a young child speak to their doll or cuddly, naturally moving into a soft, gentle voice?
Doll and cuddly play should not be a gender divide. In today's world, men are nurturing fathers as women are nurturing mothers. Both boys and girls gain from exploring how to grow up and take on the role of a nurturing adult. If we encourage this natural affinity to love a doll or cuddly, the child moves toward developing the ability to give selflessly and care for others with compassion.
Loving and caring for a doll fosters imaginative play. From a psychological perspective, it's hard to imagine the vulnerability a young child feels in a big adult-sized world. Doll play allows children to deal with that vulnerability in a safe context. Children can work out their negative feelings through imaginative play with a doll, without involving another child.
Manufacturer
German brand, Käthe Kruse, was founded in 1911, becoming the originator of soft doll manufacturing. The firm continues to make dolls with the original technique, taking pride in the handcrafted nature of their product. The firm has sold internationally for well over a century. They use the finest, premium quality materials in the world, complying with the highest European and American safety standards in the process. Today, several Käthe Kruse dolls are sold on the collectibles market.
In 2016, Käthe Kruse was awarded "Brand of the Century" because the firm exemplifies the category of doll.